MISSION
---
The goal of our program is to inspire our players to strive for personal excellence. It has been our experience that through hard work and determination comes skill development and improvement. Improvement brings self-confidence, which in turn leads to a greater enjoyment of the game.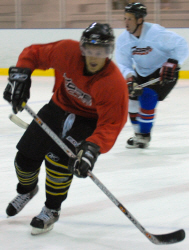 Our formula to reach our goal of striving for personal excellence is comparable to architectural design. All development begins with a solid foundation. In our camps, we strongly emphasize the fundamentals of skating. A player who has a better grasp of edge work and body control will be a better player when it comes to skills with the puck and physical play. Maximizing the stride through power skating and improvement of one's speed and coordination through quick feet and agility drills are staples of the CORE Hockey experience.
With a strong foundation of skating, we can continue to build the necessary puck, passing and shooting skills. We break down the skills and techniques to their basics, so that when we implement our over-speed drills, the player can focus on maintaining proper form. Our over-speed concepts force players to work and play outside of their personal comfort zones. Accelerated skating, puck handling, passing and shooting drills increase mental awareness. The recall from these drills allows game play to be more reactionary, decreasing the need to over think.
Utilizing our playing and coaching experiences, we form a curriculum to accommodate all age groups and skill levels. We have conducted full day hockey schools, as well as half day training camps, always taking the needs of the individual group we are coaching to formulate the practice plans. Beginner or Professional, 5 years old or 55, we are dedicated to providing all of our students the necessary tools to help solidify their game. We invest a tremendous amount of time and effort to make each CORE Hockey camp successful. To us, the success of a camp is determined by the success of our students.
---